Etsy Urges Sellers To Assure Shipping Profiles Are Accurate During Holiday Season
Etsy is again adjusting estimated shipping times behind the scenes to deal with potential delivery delays during the holiday season.
Don't Miss
"Estimated delivery dates are important to shoppers year-round, but especially during the holidays when they're buying gifts or items for their festive celebrations. That's why we've been working behind the scenes to make sure that Etsy shoppers have an estimate of when their orders will arrive," Etsy said in a community forum announcement.
The company will use information from a seller's shipping profile, including processing times, shipping carrier, and shipping service to calculate the most accurate delivery date estimate when shoppers land on listings.
In addition, Etsy said it tracks millions of orders to identify potential delays by major carriers and uses this data to adjust the delivery time estimate shown when necessary.
Because these estimates rely on sellers providing accurate shipping information, Etsy urges shop owners to confirm their shipping profiles are up to date with the correct origin and carrier information.
Furthermore, Etsy discourages using "Other" for shipping carrier as the company will not be able to adjust delivery estimates due to known carrier delays.
What About Delays After Shipping? Will Etsy Help?
In November, Etsy informed sellers that it plans to communicate with buyers if a shipment is delayed due to an issue (inclement weather, labor actions, natural disasters, etc.) outside of a seller's direct control.
Currently, in the UK, ongoing strike action by Royal Mail postal workers is disrupting holiday shipments.
Additional postal or logistics labor actions have been planned or are occurring in other European countries.
Etsy said that when it needs to inform a buyer that a shipment is delayed this holiday season, it will send shoppers a digital card they can give to gift recipients.
The card is available in multiple languages, suggesting Etsy will be sending this card on delayed cross-border shipments as well. Here is the card that will be used for US buyers.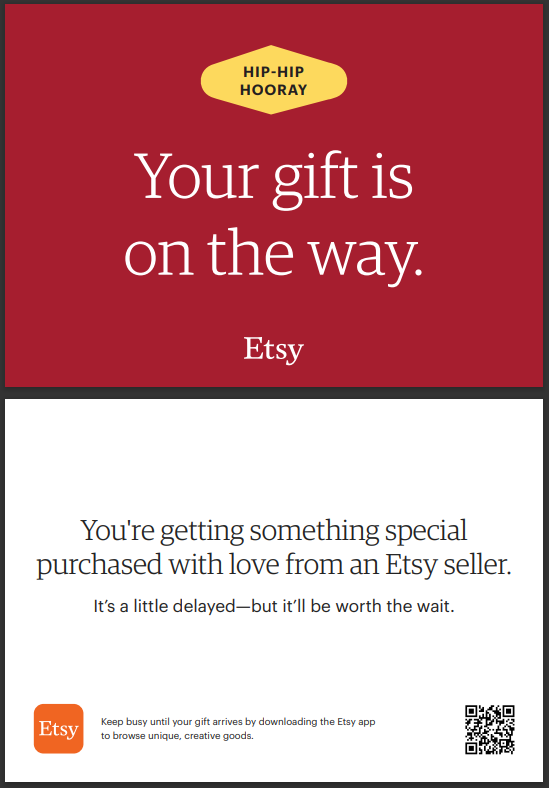 While no one is expecting major shipping chaos like in 2020, Etsy seems to be taking a proactive approach here to deal with the normal shipping problems that may occur during the holiday season.
Although offering a small Etsy-sponsored discount on a future purchase during the holiday season would have been a nice touch.
Additional Shipping Resources
Connect with us: Head over to our Facebook Group for Small Business Sellers and interact with other small business owners.
Follow us on Facebook, Twitter, or LinkedIn to stay up to date with relevant news and business insights for your online business.
Subscribe to Our Newsletter

Business Insights for Your Online Business Presented with a Dash of Humor
We do not share your information and you can unsubscribe anytime.