McDonald's "Adult" Happy Meal Toys List for $500,000 on eBay
Did you miss the McDonald's "Adult" Happy Meal Toys craze in early October?
Don't Miss
The fast food chain in collaboration with streetwear brand Cactus Plant Flea Market released a limited-edition box that built on the iconic McDonald's Happy Meal but aimed at adults.
Just like the kid's version, this "adult" version came with a toy when customers purchased either a Big Mac or 10-piece McNuggets meal deal.
The promotion was originally scheduled to last until October 30, but it had been so popular that most McDonald's locations ran out of toys in a matter of weeks.
Well, now these toys are finding their way onto online platforms like eBay. As of today, some eBay sellers are offering complete sets or individual toys for as much as $500,000!!! (free shipping included)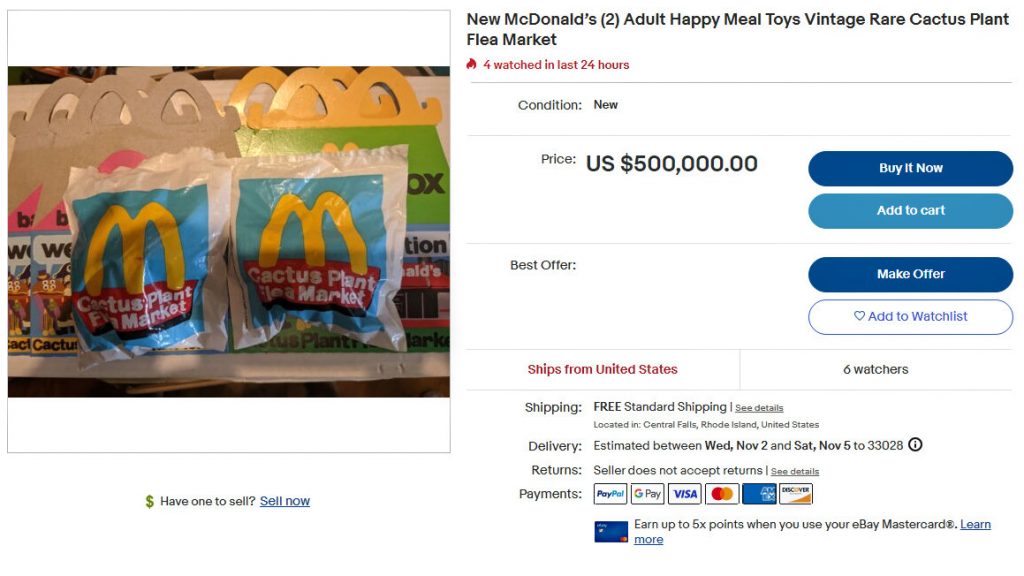 But while sellers may list such "collectibles" at any price without violating eBay policy, a quick search of sold items suggests that most of these toys sold so far didn't fetch anything near what some sellers think they can get.
Most sold for under $100, with only a few auctions apparently breaking this threshold.
Are eBay Sellers Price Gouging McDonald's Toys?
Of course, when listings pop up with ridiculous prices, the first thought is are these listings violating eBay rules because the seller is asking some outrageously high price?
But unlike during the early weeks of Covid in 2020 when sellers were offering everyday staples such as toilet paper or hand sanitizers at absurd prices, the McDonald's "Adult" Meal toys are not necessities and fall into the category of a collectible.
eBay's Price Gouging policy only applies to essential items or goods offered for sale in response to an emergency or disaster.
In addition, the marketplace could restrict the listing of items that violate other parts of its listing policies which include products that are unsafe, illegal, or depict human suffering, for example.
Just a few weeks ago, eBay removed listings that seemed to glorify Jeffrey Dahmer, which gained popularity due to the newly released controversial Netflix series, "Monster: The Jeffrey Dahmer Story."
So, the bottom line is that unless there is a prohibited item policy violation, there is no restriction on eBay to list an item that could be considered a collectible at any price — which is why there are now some sellers who have listed McDonald's "Adult" Happy Meal toys for silly money.
As much as some people may want these toys and may have missed out on them, it's hard to believe anyone would pay a half million dollars for them.
That just seems crazy.
Connect with us: Head over to our Facebook Group for Small Business Sellers and interact with other small business owners.
Follow us on Facebook, Twitter, or LinkedIn to stay up to date with relevant news and business insights for your online business.
Subscribe to Our Newsletter

Business Insights for Your Online Business Presented with a Dash of Humor
We do not share your information and you can unsubscribe anytime.