eBay Pulls Discontinued Dr. Suess Books – But Nazi Action Figures are Okay?
On Tuesday, the publishers of six Dr. Seuss books announced they would stop publishing and licensing, "And to Think That I Saw It on Mulberry Street," "If I Ran the Zoo," "McElligot's Pool," "The Cat's Quizzer," "Scrambled Eggs Super!" and "On Beyond Zebra!" because "These books portray people in ways that are hurtful and wrong."
Don't Miss
Thursday morning, eBay sellers on Facebook and other internet forums posted that the online marketplace had pulled their listings advertising the discontinued books, citing its Offensive Materials Policy. As of the date of this story, the policy states:
---
Listings that promote, perpetuate or glorify hatred, violence, or discrimination, including on the grounds of race, ethnicity, color, religion, gender or sexual orientation, aren't allowed. This includes but is not limited to the following:
Slurs or epithets of any kind
Slavery items, including reproductions, such as tags, shackles, documents, bills of sale, etc.
Items with racist, anti-Semitic, or otherwise demeaning portrayals, for example through caricatures or other exaggerated features, including figurines, cartoons, housewares, historical advertisements, and golliwogs
Black Americana items that are discriminatory
Confederate battle flag and related items with its image
Historical Holocaust-related and Nazi-related items, including reproductions
Any item that is anti-Semitic or any item from after 1933 that bears a swastika
Media identified as Nazi propaganda
Listings that imply or promote support of, membership in, or funding of a terrorist organization
---
In a statement to the Wall Street Journal, eBay confirmed it was actively removing the six Dr. Suess titles, "eBay is currently sweeping our marketplace to remove these items," a company spokesperson told the WSJ. But as of Friday morning, there are plenty of listings still on the platform. Did eBay change its mind about these books?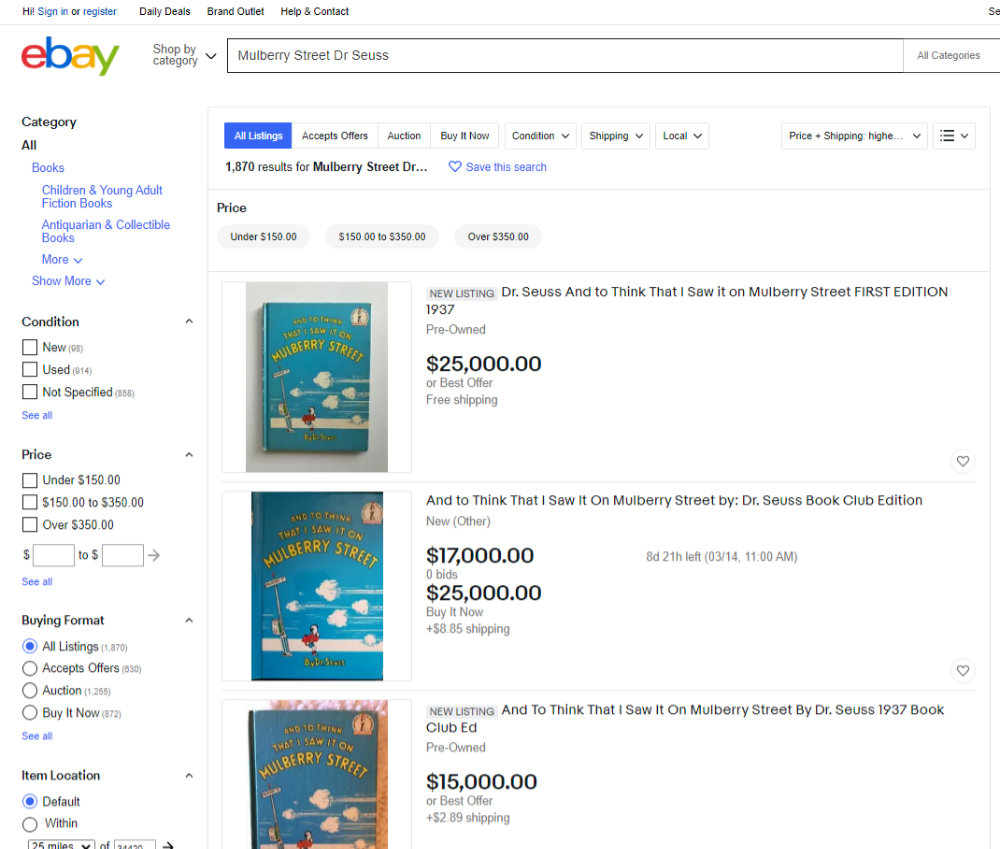 Nazi and White Supremacists Material on eBay
The Journal's story also identified other listings on eBay that may violate its Offensive Materials Policy, Adolf Hitler's "Mein Kampf" and the William Luther Pierce novel "The Turner Diaries," a book that has been linked to white supremacists and acts of white supremacist terrorism.
When pressed by the WSJ, the eBay Spokesperson confirmed these two books also fell under its Offensive Materials Policy and would be removed.
As of this morning, it does appear there are no copies of "The Turner Diaries" on eBay, but there are listings of "Mein Kampf" still on the platform. Is eBay allowing them because they are annotated editions of Hitler's book?
That may be the case because annotated editions of literary work bring context by explaining and interpreting words, phrases, passages, and other text or graphic elements. Yet, the sale of annotated editions of Mein Kampf is not completely without controversy as well.
However, using the search term "NAZI" on eBay found several Nazi materials that by any reasonable interpretation of the Offensive Materials Policy should not be on the marketplace.
One such item is from a seller in China listed as a Nazi Supergirl DC Superhero Mini Action Figure Toy The Arrow Lego Moc, depicting a toy with SS insignia. This "toy" has been sold at least 29 times, with three sales being in this month. So, this is okay?
While the search term "NAZI" on eBay brings up nearly 30,000 listings that would appear to be of historical significance, fall into collectible categories, such as coins, paper money, and stamps, or have an anti-fascism message, there are still a fair amount of products listed that appear to violate the company's Offensive Materials Policy.
In addition, given eBay's interpretation of its Offensive Materials Policy regarding the six Dr. Suess books, one would think that consumer brands that recently underwent a branding change to remove racial insensitivities should also not be allowed on eBay, right?
Last year, the Quaker Oats Company announced it would rebrand the popular pancake mix, syrup, and other breakfast foods under the Aunt Jemima name to the Pearl Milling Company. A search using the term "Aunt Jemima" on eBay surfaces discontinued products with this former brand name in the title.
Similarly, one can find discontinued rice products from the Uncle Ben's brand on eBay. Mars, Inc., the brand owner, recently changed the name to Ben's Original for the same reasons the Quaker Oats Company rebranded Aunt Jemima products.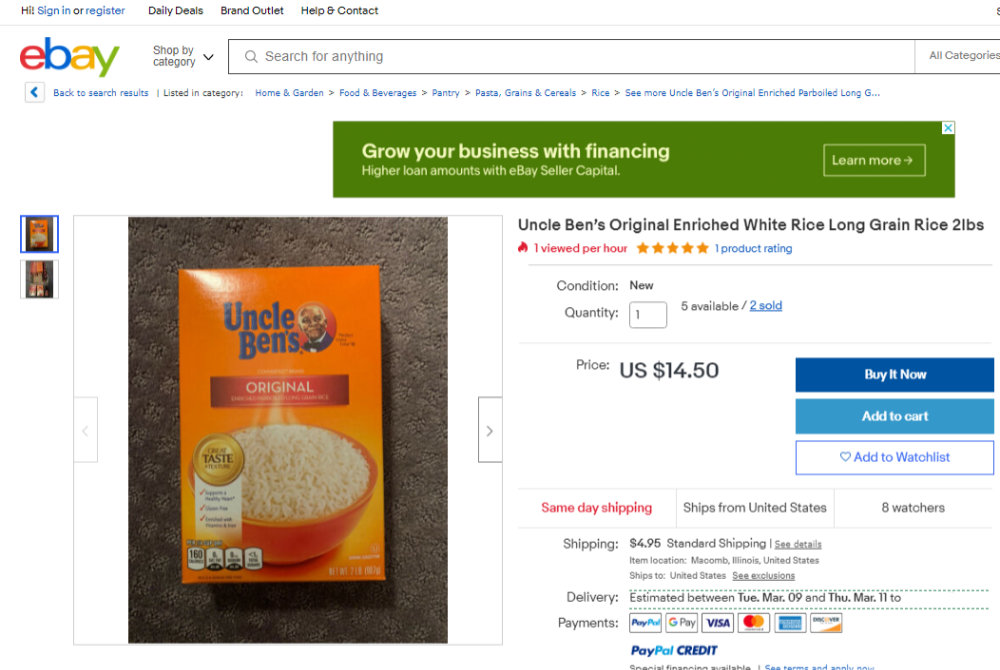 eBay Policy Enforcement is Inconsistent
eBay has every right to police what products sellers may list on its platform, even those that are legal to sell. None of the items questioned here are illegal for sale in the United States and eBay as a private company can impose listing restrictions that align with their corporate values.
The problem is, are they doing enough to enforce their policies and be consistent so that sellers understand what is and is not allowed on eBay?
While eBay provides a method for users to report listings that may violate its listing policies, it seems the company should do more using the technology it already has developed.
Last year, eBay said it removed over 500,000 listings for COVID-19 related policy infractions. While the company never explained how it identified those items, it seems they have the technology to remove a large number of listings based on a keyword-based algorithm.
Also, the company developed image search technology to help eBay buyers find products on the platform. Again, it seems eBay has the tools to develop a system using keywords and images that could continuously identify listings that potentially violate its policies.
This is not the first time eBay's policy enforcement shows it lacks consistency. Why can't they get this right, or do they only worry about this issue when the media spotlight is on them?
Connect with us: Head over to our Facebook Group for Small Business Sellers and interact with other small business owners.
Follow us on Facebook, Twitter, or LinkedIn to stay up to date with relevant news and business insights for your online business.
Subscribe to Our Newsletter

Business Insights for Your Online Business Presented with a Dash of Humor
We do not share your information and you can unsubscribe anytime.