The 3 Big eCommerce Marketplaces Show Support For Ukraine Through Current Conflict
The largest three US marketplaces, Amazon, eBay, and Etsy have now all publicly made statements showing support in a number of ways to Ukraine and its people amidst the current conflict in the country. This started on Monday when Etsy CEO Josh Silverman announced that Etsy would be wiping the balance of all Ukrainian sellers thought to total approximately $4 million. Since then, both Amazon CEO Andy Jassy and eBay CEO Jamie Iannone have also pledged their company's backing to Ukraine.
Don't Miss
Amazon's Support For Ukraine
In a tweet that went out on Wednesday evening in the US Andy sent the following message to his followers.
"We're supporting humanitarian relief NGOs on the ground with cash donations from Amazon and our employees, logistics to get supplies to people needing them, and cyber security assistance to companies and governments."

Andy Jassy, CEO, Amazon. via Twitter
Not only are Amazon and its employees supplying cash donations to humanitarian NGOs in Ukraine, but they also pledged both logistics support for supplies from their impressive network, as well as cyber security assistance no doubt from AWS, the branch of Amazon that Andy used to run before taking the CEO role.
eBay's Support For Ukraine
This morning, eBay CEO Jamie Iannone also released a statement, choosing LinkedIn as his platform of choice to announce how eBay was helping those affected by the conflict in Ukraine. A few days earlier eBay had already announced that they had put in place their famous seller protections which are often reserved for natural disasters here in the US.
Going further than that, however, Jamie also announced that eBay would be matching their employee's donations to causes that support Ukraine at a 2:1 ratio. He also mentioned how through the eBay Give at Checkout option there will be an option to support Ukraine relief organizations and that eBay will also match a portion of customer contributions.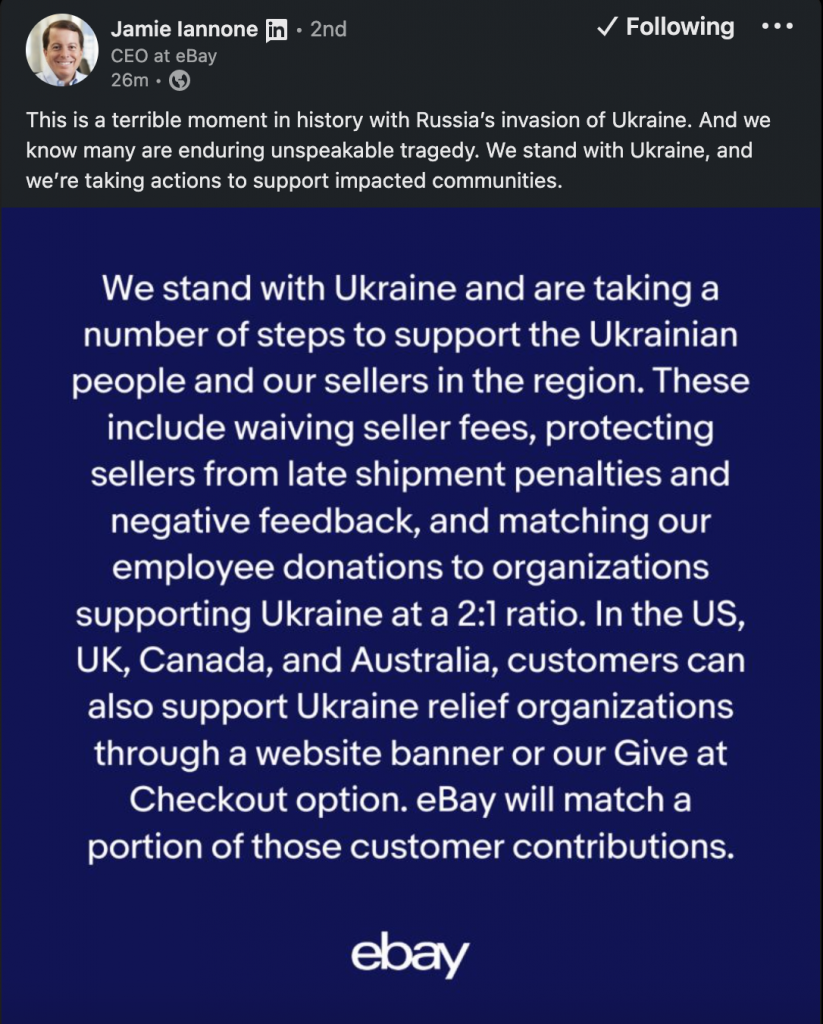 Connect with us: Head over to our Facebook Group for Small Business Sellers and interact with other small business owners.
Follow us on Facebook, Twitter, or LinkedIn to stay up to date with relevant news and business insights for your online business.
Subscribe to Our Newsletter

Business Insights for Your Online Business Presented with a Dash of Humor
We do not share your information and you can unsubscribe anytime.